Giveaway Winner Announcement
 We are excited to announce the
Fall Into a Be-Attitude Giveaway
 winners.
Tracy P of MI
&
Jaye T of IL
For those who are receiving an e-mail from me for the first time, I'm LaQueisa, the founder of Your Beatitudes Christian lifestyle and apparel brand. You may not have won these giveaway prizes, but if you know Jesus Christ as your Lord and Savior and have his Be-Attitude, You Always Win. 
I am so grateful to have this opportunity to share more about the YB brand through the video and information below.  After getting to know more about our brand, I hope you will stay connected with us by supporting our mission to build a Be-Attitude Nation. Check out one of our programs on the website, like the upcoming Fall Into a Be-Attitude Challenge. Follow us on social media or purchase some apparel to represent your faith attitude.
20% Off Coupon Code on Apparel:  
Giveaway20
Or use coupon code YBSHIPPING for free shipping off Handbags.
 To use your discount, copy one of the coupon codes and enter it at check out.
Our mission is to build a Be-Attitudes Nation and positively impact communities by spreading love, hope, and faith through God's power.
To provide quality fashion accessories and apparel that promote the attitude of Jesus Christ.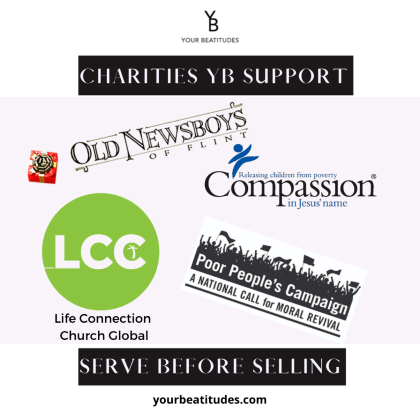 Buying our luxury handbags and other apparel is an investment you can feel good about. Your purchase helps us further support charities and nonprofits that assist families in need worldwide.
I thank God for my humble beginnings growing up in Flint, MI. It taught me so many things, but one of the greatest lessons is to
Serve before Selling.
It's an honor to use the YB brand to show the love of God and extend compassion to those in need.
Show us some love and connect with us on social media.
🙏🏾Support, 💝Share and #️⃣Tag our YB brand
#YourBeatitudes #BeAttitude